Online Business Directory
reach local customers
Get found where your customers search
Your business, listed where your customers are looking!
Reach new customers, increase your sales
According to a Google study, 80% of consumers regularly query search engines for local business information, with half of them visiting a local business within a day of the search.
Our exclusive Business Directory service can now have your business listed and updated live through our network partners.
Add your website, with one click!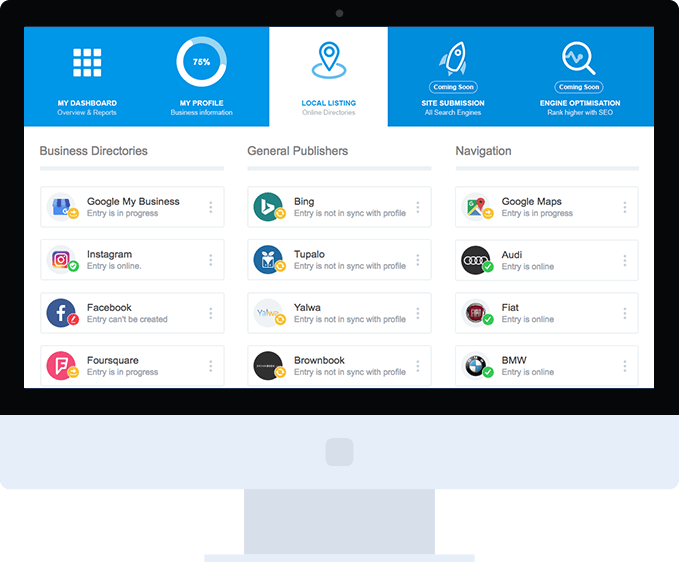 Easy and Simple

Enter your business information and your listing will be distributed to all selected online directories with a return confirmation.

Guaranteed Listings

Our automatic data checks will check if all directories entries are valid and updated, ensuring you a guaranteed listing.

Always Expanding

We are always adding additional updates, directories, and specialised industry sites. As we expand so will you, we never stop growing.
Advantages of Business Directory
Grow your business, and go where your customers are
Get found online quickly and easily
Customers are using PCs, laptops and mobile devices anywhere, any time, and every day. Make sure they can find you and get the information they need immediately: our local Business Directory lists your business on over 22 platforms.
Your information updated everywhere
Many platforms use different data sources. However, these can be incorrect, incomplete, or your company is missing. Our directory service has direct access to more than 22 platforms, and will ensure all information is correct.
Improve your Google search listing
The number of business entries you have online has a huge impact on the ranking of your company in search engines. It is a sign of the credibility of the company, ranking you above lower quaility competitors.
Customer Feedback Monitoring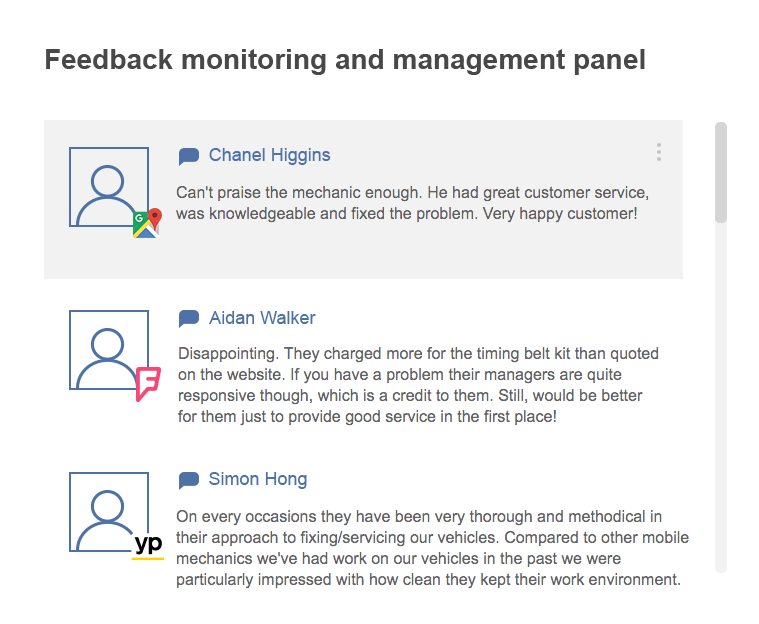 Improve your reputation and read what your customers are saying.
Whether you like it or not, your customers are talking about your brand. About good experiences and bad. Their experiences will be shared publicly on the web - as comments, reviews, ratings, likes, check-ins and photos.
The only problem is: how do you monitor and make sense of all the social content out there?
Our Business Directory reputation hub is the solution, it monitors all the content users create about your business on Facebook, Google, Foursquare and other websites and gives you first-hand what your customers think and say about your brand - and allows you to take part in that conversation.
This is an insanely valuable asset to any business planning and now can be purchased additionally with any Business Directory plan.
Your Questions, Our Answers
What is a Business Directory?
A Business Directory refers to the source of business information categorised in lists. It contains all types of business information, either printed or online. Contents may include business name and address, telephone number, email address, products and services, etc. Some details may vary from one business to another. Others include sections for comments and feedback while some contain advertisements and promotions.
Why use an Australian Business Directory?
To promote your industry
Yellow Pages used to be the traditional phone directories that you scan through, whether you wanted to book a hotel for a trip, or catering services for a party, but that was before. Now, online directories are accessible from any internet-connected device. Australia now has multiple industry specific business directories, serving as a marketing tool to offer services through categorised listings.
To advertise your services
Aside from promotions, one goal of the directory is to help with advertising, and boosting your virtual presence. It helps you to maximise the reach of the tools and products that you want to offer your customers. The Australian Business Directory is the best because it helps drive sales through website purchases.
To be more It is convenient
Any eCommerce industry wants to showcase how sharp and advanced their products and services are. Using online Business Directory, it is easy to achieve that. One click and your company gets the deal.
Important benefits of a local Business Directory
It tracks your progress
It allows your establishment to be on top and up to date. Old, obsolete phone numbers or an out of date company address are factors that can negatively affect your brand, decreasing your brand awareness. However, if you're using directories, your brand will consistently be traceable and reachable, and might potentially create an interesting noise on the Internet.
It makes you reachable
Similarly, it allows your brand to be within reach. For example, you want to host an ice cream birthday party for your daughter, tomorrow. You don't have enough time to prepare for the event so you decided to browse a Sydney Business Directory and found the services you need. You call them and, bravo, there's no way your child's ice cream birthday celebration will be postponed.
It markets your products
Local products are sometimes harder to market because they are usually overshadowed by international brands. If you are worried, try to include your business in listings and be consistently available to your customers. Business directories are a great tool to market and improve resident brand into a larger scale.
It leads the buyers
Most, if not all shoppers, prefer homegrown products because of their accessibility, and more affordable prices. For instance, if you are listed in a Perth Business Directory, people will find it easy to reach your company and use your services that match their needs.
Why a professional logo design helps your Business Directory listing?
It attracts potential customers
A good design symbolises the quality of your products and offers enticement to the capacity of your services. It is an image that shapes the impression of shoppers and increases their interests to patronise the products. For example, your business is listed in a Melbourne Business Directory and your logo reflects the right color of combination of your brand, it will be considered to be more attractive.
It enhances the quality of your products
Many shoppers are attracted to images. They sometimes judge the quality of your products according to how you lay out or design your logo. Most business listings are including attractive photographic images to add zest to your promotions and encourage other entrepreneurs to create a single, unforgettable design so they too can excel in the eCommerce competition.
It shows professionalism
Aside from its purpose to portray an image, a design also displays professionalism. Imagine a brand without a logo? It's plain and boring, and might mistakenly be identified as fake or scam. With a design, your brand can channel an authentic purpose as an entrepreneur to deliver services and meet customer's expectations. A local Business Directory helps especially if your brand aims to increase brand awareness and support a recognition campaign.
It marks credibility
Remember that credibility is a fundamental rule. It's the number one quality that your brand must possess specially to compete in Internet recognition. A design helps to establish legitimacy and comprehensive integrity in order to enhance contact information and return income from investments.
How to improve your brand using Business Directory?
Be careful of your choices
Choose an Australian directory that organises their business lists well. Take note of the alphabetic order and equal distribution of brand awareness opportunities to all industries. Be wary of how the host directory processes the SEO strategy to get your brand be recognised.
Identify your geographic scope
If you are focused in eCommerce, go for an Australian business pages' directory that has a forceful integration of marketing strategy. However, if you want to escalate nationwide sales, choose a directory that can help you franchise a wider range of target customers.
Be consistent
Make sure that your brand is consistent, especially if you wish to be a great manufacturer. Most eCommerce shops are competing in a tight contest for virtual acknowledgment. Secure your own virtual space through choosing a directory that strengthens your brand in Australian business search. Consistency is ultimately the key to keeping your brand in providing unforgettable products and services to maintain a good name.
Always be up to date
Monitor your contact details every day, if possible. If you want to change location, phone number, or email address, don't forget to update your necessary details so customers are always aware of the adjustments that they should make in return. This is also a plus, knowing that some of your competitors might not give consistent attention to their directory list and forget to update it often.